---
Matt Zanderigo
matched $500
---
An Anonymous Donor
matched $300,000
Brice Pearce
gave $100
---
A Group of Generous UNHM Supporters
gave $5,500
Gifts to UNH Manchester contribute to...
About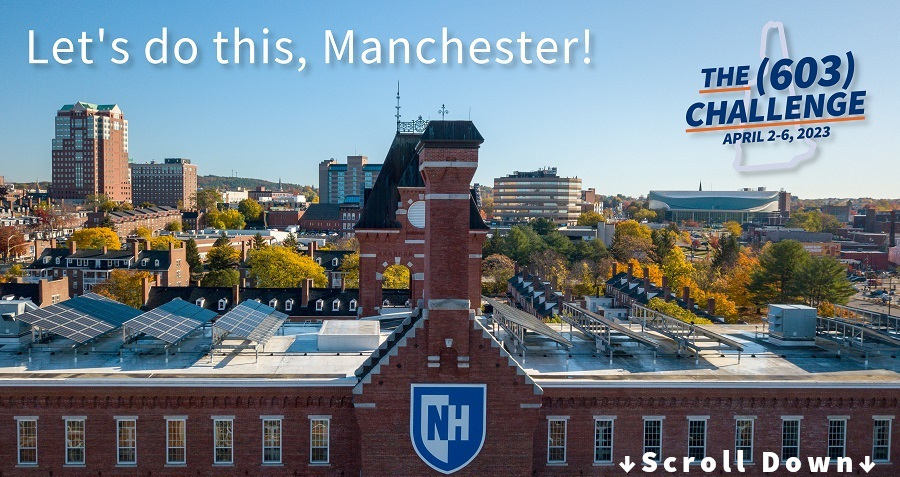 We need YOU to prove that UNH Manchester is #1
---
At UNH Manchester, we know our unique assets are our biggest strengths. With 61% of our students characterized as international, non-U.S. citizens, persons of color, first generation, non-traditional age or low income, diversity fosters a sense of community and creates well-rounded students ready for success. To continue to provide an accessible and affordable education to students of all walks of life, we need your help rising to the (603) Challenge. 
It's time to prove that our community is #1, especially when it comes to supporting our students.
Here's how you join the challenge:
Make a gift of any amount to your favorite UNH Manchester Program - your gift will help UNHM earn matching and bonus funds, while showing your Manchester pride! Your support is critical as we adapt to the evolving needs of our students.
Tell us your story - Record a video about your Manchester story and upload it as a personal plea. Nobody can match the unique experiences of Manchester students, alumni, faculty, staff and friends - when you share it inspires everyone!
Spread the word - Chances are, you know someone who can have an impact on our unique campus. Share the challenge on social media, or create your own matching gift - your voice will spark our success in this fundraising effort!
Ready? Set. Give!
Updates
ANNOUNCING THE GRAND FINALE BONUS CHALLENGE
---
All donors who make an online gift on the last day of the challenge, Thursday, April 6 (starting at 12:00:01 a.m. ET) will receive an equal portion of $90,000 added to their gift. Only donors who have not already given to this year's challenge qualify. The bonus amount tacked on to your gift will be dependent on the number of donors that qualify and will be calculated after the challenge is over. Whether you make one or multiple gift transactions and/or give to multiple areas, your bonus amount will be split accordingly.
177 days ago by
Jackie Overton
ANNOUNCING THE NH NUMBERS BONUS CHALLENGE
---
The first 1,000 donors who give online on Wednesday, April 5, and haven't already made a gift to this year's challenge, in a total amount containing the numerals 6, 0, and 3 will receive a $50 bonus added to their gift designation(s).
178 days ago by
Jackie Overton
---
Who's supporting UNH Manchester?
---
Advocates
Paul College Dean's Advisory Board and Friends
Sustainability Advisory Board, Stephen Weisbuch '79G, Ali McPherson '96, Timberland Company, Kennebunk Savings Bank
A generous group of donors
Matt Witkos '89, Jack Sebastian '88 and Bob Phillips '76
COLSA Development Board and Friends
Sustainability Advisory Board
A group of generous CEPS supporters
Frederick & Adele Pulitzer, Elizabeth & Kevin McGann, Angela & David Hiley, Todd & Julie Black, John Morrison '76 and Susan '85 & Michael Labrie
---