About
Remembering a Grand Master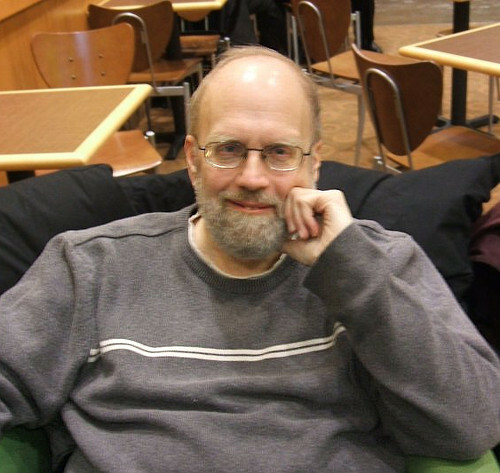 University of Detroit Mercy's former Cataloging Librarian David Moody passed away on June 25, 2022. We would like to dedicate a tree to be placed on the campus of Detroit Mercy in his memory.
David was an indispensable asset at the McNichols Campus Library for over 35 years. He was honored in 2011 as one of the then- Libraries/IDS Employees of the Year for his "Outstanding and Dedicated Service" in the processing of new resources for the library. (IDS is now a separate entity known as the Office of Digital Education within the Center for Excellence in Teaching & Learning.)
David's career began in 1982 when card catalogs and print indexes were the only information portals available. In the early 1980s, he played a major role in getting the holdings of the McNichols Campus Library listed in an international database, which is a key resource for catalogers worldwide.
In the late 1980s, the McNichols Campus Library joined several other libraries in constructing online databases, effectively eliminating the need for card catalogs and enhancing the possibilities for sharing resources with different institutions. David's skills as a cataloger aided this process greatly. This group of libraries is known as the Detroit Area Libraries Network (DALNET).
When the University of Detroit and Mercy College of Detroit consolidated in 1990, it became necessary to incorporate the holdings of the Outer Drive Campus Library (the former Mercy College Library) into the database containing the holdings of the McNichols Campus Library. David, along with the Head of Cataloging, set up and oversaw a copy-linking project which utilized the talents of all the librarians and support staff.
The libraries of the McNichols Campus and the School of Dentistry have experienced three different database systems to date. With each incarnation, David's analytical skills helped his coworkers in every department to navigate new and unfamiliar territory, troubleshooting the areas in which there was not always a smooth transition of data.
In the 1980s and 1990s, David offered many cataloging workshops through the Michigan Library Consortium (now the Midwest Collaborative for Library Services). Thanks to email and the good old-fashioned telephone, he continued to offer his cataloging expertise to area librarians.
David retired from Detroit Mercy in December of 2017. It was said that David truly could never be replaced, his service for the Libraries laid the groundwork for those in both public and technical services to continue providing accurate information and helpful guidance to all those who make use of Detroit Mercy's resources.
Since childhood, David has been involved in one way or another with chess. In recognition of his eight-year tenure as editor for the magazine Michigan Chess, he was elected to the Michigan Chess Association Hall of Fame. As editor of Michigan Chess he tirelessly and selfishly worked for many years and spent countless hours going over games played at every Michigan tournament and tournaments groups of Michigan players attended – such as a US Open or Midwest Class Championship.
David frequently contributed to chessgames where he went by the screen name Phony Benoni. Later in his life David's involvement in chess took the form of creating a universal database of chess games. This was a very challenging task, since stories about the games in question can either be hard to find or have inaccuracies. But David scrutinized all the information he could find with the zeal of a private detective. His work on this database took up a lot of time and energy during his retirement years. Let's hope that chess players and aficionados, now and in the future, appreciate his efforts!
Excerpts from Beyond the Stacks, Hats Off to a Grand Master by Kris McLonis
Donations by check can be made out to University of Detroit Mercy with David Moody tree dedication in the memo line and sent to:
University Advancement
University of Detroit Mercy
4001 W. McNichols
Detroit, MI 48221
Updates
Thank you!!
---
A huge thank you to everyone that contributed for a tree dedicated to David Moody! Thanks to you we have met our goal.
A tree will be planted on the grounds of the McNichols campus as soon as the Michigan tree planting season allows.
Thank you again for helping us to remember David in this way.
363 days ago by
Judy Wernette
---
Most Recent Donors
View All Donors
---
---