Alexander Hess
matched $50
---
Whitney Franklin
matched $150
---
Parker Oliver
matched $200
---
Whitney-Lehr Ray
matched $200
---
An Anonymous Donor
matched $25,000
---
An Anonymous Donor
matched $150,000
Whitney Franklin
gave $50 because 500 donors made a gift in 2 days
---
An Anonymous Donor
gave $50,000 because 1,500 donors made a gift in 2 days
Login, share your personal link, and get one friend to give and we'll send you a YSR bumper sticker for your car, bike, or board.
---
Login, share your personal link, and get five friends to give during this campaign and you'll receive an iconic Sewanee print. Choose from five campus photos!
---
Share your personal link, generate ten donations, and you will receive a #TigerTuesday t-shirt!
---
Become an Advocate for this challenge and when you generate $2,500 or more in donations, you will be sent a limited edition Sewanee tote bag. Click the "Advocates" button above to participate.
---
For your gift of $25 or more, Sewanee will send you a digital desktop photo.
---
You've shown Sewanee your support, now show the world! Donors of $100 or more may select to receive a University seal window decal.
---
During the 1899 college football season, Sewanee, outscored its opponents 322-10, including five victories in six days over Texas, Texas A&M, Tulane, LSU and Ole Miss. Get the famous "On the Seventh Day, They Rested" poster showcasing the historic team!
About
Today, we ask all Sewanee alumni, parents, faculty, staff, students and friends to be part of our first #TigerTuesday by making a gift of any size!
Goal:
Challenge:
Two generous alumni will match every gift made today dollar for dollar - up to $150,000!
If we reach our goal of 1,500 donors, we will secure an additional $50,000.
So in one day we could add $300,000 or more to the Sewanee Fund!
Make your #TigerTuesday gift.
Then, challenge your classmates, teammates and share on social media.
We need everyone to chip in to make #TigerTuesday a success.


---
If you would like to make your gift over the phone, please call
931.598.FUND
Updates
Save the Date! #TigerTuesday
---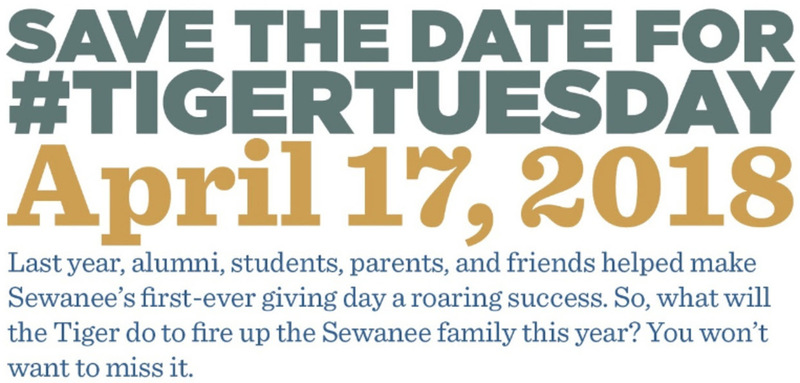 WAYS YOU CAN HELP MAKE #TIGERTUESDAY A SUCCESS
Go to the top right-hand corner of THIS page and create your GiveCampus account in advance so you are ready on

April 17

.
Participate on #TigerTuesday. If you have already supported the University this fiscal year, a second gift of any size can help build momentum. If you have not made a contribution yet, this is a great way to make an IMPACT by donating, or even creating a challenge gift to encourage others to participate during #TigerTuesday.

On #TigerTuesday, please share the message on social media early and often. We cannot accomplish the goal without your help!
STAY TUNED FOR MORE EXCITING NEWS ABOUT SEWANEE'S GIVING DAY!

2075 days ago by
Neal Johnson
---
Class LeaderboardThe Class Leaderboard reflects giving from Alumni
| Affiliation | Donors | $ Raised |
| --- | --- | --- |
| 2016 | 60 | $2,452 |
| 2013 | 58 | $2,220 |
| 2012 | 58 | $2,633 |
| 2015 | 54 | $2,015 |
| 2009 | 51 | $4,445 |
| 2010 | 50 | $2,636 |
| 2011 | 49 | $1,766 |
| 2007 | 48 | $2,510 |
| 2008 | 45 | $2,680 |
| 1989 | 42 | $8,250 |
| 2014 | 38 | $1,905 |
| 2005 | 30 | $3,424 |
| 1985 | 28 | $7,700 |
| 2000 | 28 | $4,591 |
| 1988 | 27 | $6,895 |
| 2001 | 27 | $4,257 |
| 1999 | 27 | $3,210 |
| 1978 | 26 | $6,245 |
| 2006 | 26 | $4,005 |
| 1976 | 25 | $12,000 |
| 1997 | 24 | $8,760 |
| 2003 | 24 | $5,015 |
| 1981 | 23 | $17,025 |
| 1984 | 22 | $3,426 |
| 1990 | 21 | $4,432 |
| 1973 | 21 | $5,350 |
| 1996 | 21 | $4,550 |
| 1994 | 20 | $22,668 |
| 2004 | 20 | $1,545 |
| 1998 | 19 | $2,124 |
| 1991 | 19 | $3,555 |
| 1980 | 19 | $17,045 |
| 1986 | 19 | $9,325 |
| 1995 | 19 | $7,290 |
| 2002 | 17 | $1,365 |
| 1977 | 16 | $16,600 |
| 1979 | 16 | $8,225 |
| 1983 | 16 | $4,425 |
| 1993 | 16 | $2,153 |
| 1982 | 16 | $5,690 |
| 1972 | 15 | $8,425 |
| 1987 | 14 | $3,155 |
| 1970 | 13 | $2,700 |
| 1971 | 13 | $2,200 |
| 1992 | 12 | $1,630 |
| 1964 | 12 | $2,775 |
| 1969 | 7 | $4,500 |
| 1974 | 6 | $3,135 |
| 1961 | 6 | $2,500 |
| 1959 | 5 | $200 |
| 2017 | 5 | $235 |
| 1965 | 4 | $1,150 |
| 1975 | 4 | $1,425 |
| 1968 | 4 | $11,550 |
| 1962 | 3 | $3,970 |
| 1960 | 3 | $1,100 |
| 1963 | 3 | $358 |
| 1967 | 3 | $8,250 |
| 1966 | 3 | $4,000 |
| 1956 | 2 | $200 |
| 2020 | 1 | $200 |
| 2019 | 1 | $50 |
| 1951 | 1 | $25 |
| 1949 | 1 | $10,000 |
| 1952 | 1 | $5,000 |
| 1957 | 1 | $400 |
Most Recent Donors
Bette Foster & John Radney Foster
View All Donors
---
---