About
KSPC 88.7fm is a 400 watt, non-commercial, non-profit, educational, community radio station located on the campus of Pomona College. Founded by the college in 1956, the station broadcasts and streams online 365 days a year. KSPC Claremont strives to be a diverse, collaborative, and educational space in which community members of the Claremont Colleges and beyond can participate in their love of media, music, and radio. Through creative programming ranging from student curated selections from new and up and coming artists to specialty shows featuring genres like movie music, bebop jazz, reggae, analog and modular synthesizer music, polka, metal and more, KSPC promotes innovation and discovery by providing a platform for new and underrepresented voices, perspectives, and sounds.

To give through another Claremont College, please visit:
Updates
Happy Birthday KSPC!
---
Thank you to everyone that has helped us celebrate so far. Spread the word to help us reach our goal of 887 donors!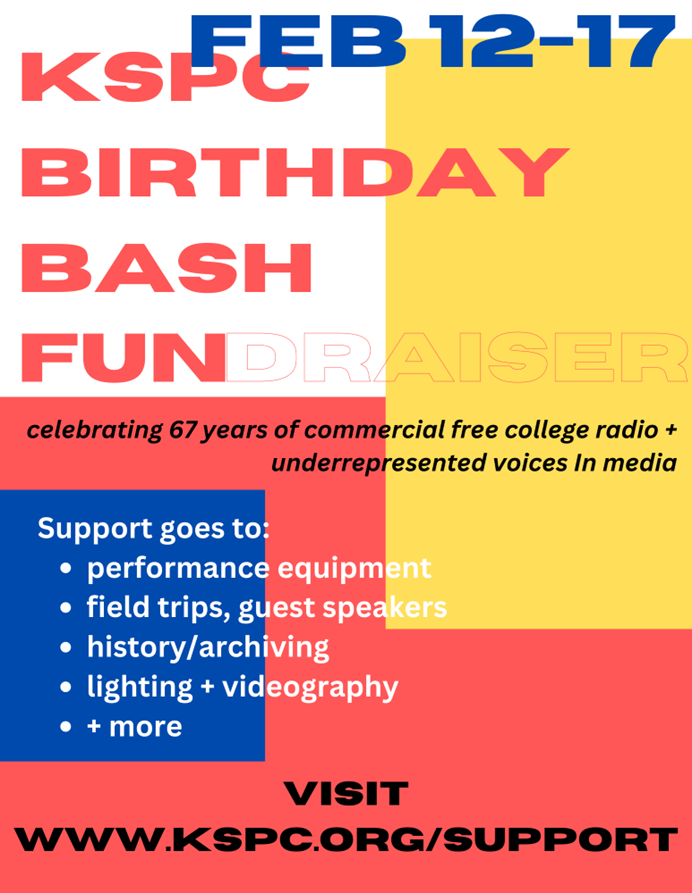 291 days ago by
Dena Negrete
---
Most Recent Donors
David Blatner & Debbie Carlson
View All Donors
---
---