About
We would like to take this opportunity to say THANK YOU for your support of Misericordia University and the Stronger Together Annual Giving Campaign.

But we are not yet finished - with your support, you can help keep the momentum going this year as the university prepares to welcome more students this fall. Won't you please be one of them?
Support of alumni, like you, during this challenging year, has changed each of our lives and made a lasting impact on our world. The Arches of Misericordia will continue to welcome another generation of students because of YOU.
We hope you will consider making a gift today and Add YOUR Name to the list of alumni who support the Misericordia Fund.
Questions or to make your gift by phone, contact: Lailani Augustine, Director of Alumni Relations & Annual Fund at 570-674-6248.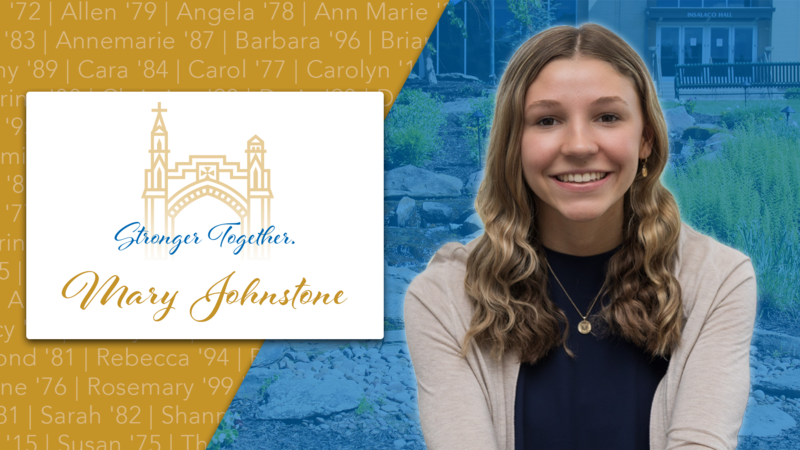 Mary Johnstone thinks it's really special that her class will celebrate Misericordia's centennial when she and her class cross the stage in 2024. She believes that you are the backbone of Misericordia - and without YOU, students like her would not have the opportunities to learn the many life skills that are incorporated into their academic experience. For this, she is truly grateful!
Ty'Shawn Hopkins knew from the minute he and his family entered the campus, he had to come to Misericordia because of the community's embrace. He is extremely grateful for the opportunity to study Medical Health & Humanities, a new field that will give him an understanding of how medicine has changed the shape of our culture. He finds it admirable that individuals who don't even know him have invested in his future success. Without the collective support of Alumni donors like YOU - attending college would have been difficult for him, and doesn't know if some of his classmates or him would be here at MU today without your support.
Allie Bianco is extremely grateful for the many experiences that she has had so far, especially representing MU during a service trip to Jamaica with her classmates and campus ministry. She believes it is an honor to be a student of Misericordia University and knows that Alumni donors like YOU invest in their success – she thanks you for your continued support of herself and her classmates.
No updates for this campaign.
---
Most Recent Donors
Mrs. Barbara A. Ondrick Skopek
---
---