Scott Clinton
matched $50
Gifts to Augsburg Men's Soccer Fundraiser contribute to:
About
The Need
The Augsburg Men's Soccer team uses a lot of information to make informed decisions. We are always looking for ways to improve - just a little bit each day. Now that we are training 3x a week inside our dome, we are looking for a camera system that can capture our training and intrasquad scrimmages - one that fits inside the dome giving us enough height to analyze, but doesn't take up a lot of space or require an operator.
The Veo Camera Platform will allow for us to film inside the dome. It does not require an operator - it simply follows play.
Allows players to learn from and analyze their performance after each session
Provides convenient access to information on their phone
Keeps a coach on the field instead of behind a camera - and during COVID we have limited number of people allowed in our facility, an independent camera operator is not an option at this time
Tripod for indoor use and a camera mount for the press box once the dome comes down for future outdoor use
The cost to purchase the camera and tripod and the software license needed for our players to use the systems is around $2,800. Any money raised above the $2,800 needed will go directly to the Men's Soccer Endowment to support the long term health and stability of the program.

About Augsburg Men's Soccer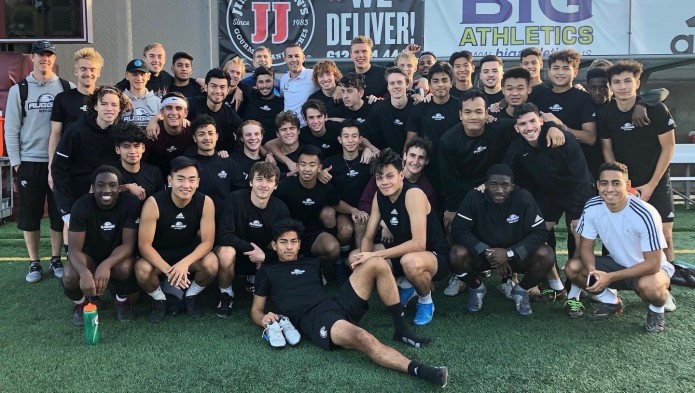 For more than 50 years, Augsburg Men's Soccer has provided a unique experience both on-and-off the field (NCAA Tournaments, International Travel, Canoe Trips, Community Service, Father-Son Mentorship, Paintball, etc.). We've accomplished all of this with talented, driven, and dedicated players, a humble budget, and generous support from students, alumni, parents, and friends. Our program prides itself on being inclusive, and our 2020 roster reflects both our program values and Augsburg's commitment to intentional diversity.
The Numbers
Your financial support will greatly impact our student-athletes by:
Providing stability an continuity in player experiences during COVID19
Providing the most professional environment possible, including player safety
Providing opportunity for self-reflection as a soccer player and human being
Growing our very young, but robust Men's Soccer Endowment
Updates
Thank You!
---
Thank you to all the generous donors who helped us achieve our 2020 Give to the Max Day goal! Your support is both appreciated and paramount to our ongoing success as a program. You've given us the tools we desire to create a holistic and powerful life experience for the guys through sport. Thank you!!!
Greg Holker
171 days ago by
Greg Holker
---
Most Recent Donors
---
---