About
Make a gift today to help 12 Western Kentucky University students access a life-changing educational opportunity to fly fish on world-renowned rivers in Missoula, Montana.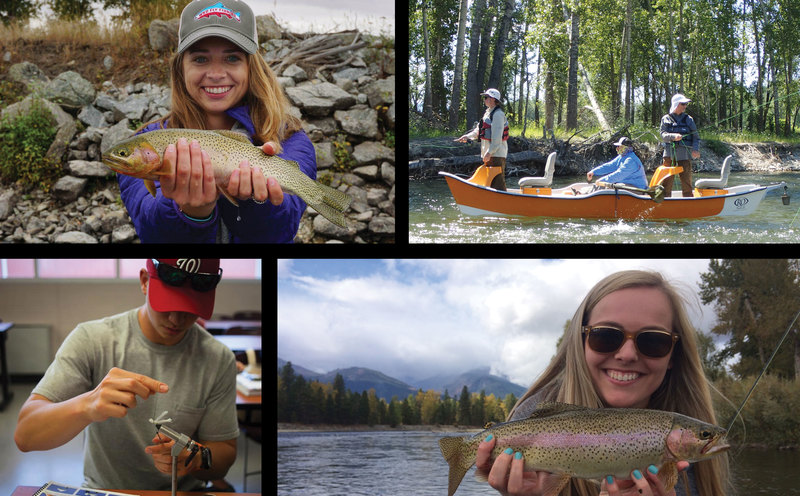 The innovative WKU Fly Fishing Montana student program was developed in 2013 to create a phenomenal and intense learning experience in which our students could be introduced to, and embrace, a lifelong recreational pursuit in one of nature's amazing laboratories.
On the rivers and land loved by Norman Mclean, author of A River Runs Through It, our students also learn about the recreation and tourism industries, conservation, natural resources (e.g. fish, water, land, etc.), economic impact of fly fishing, and about community.
Students earn three academic credit hours in the course, which includes classroom instruction in Bowling Green, KY with assignments pre- and post-travel. While in Montana, students receive four days of exceptional instruction from professional guides on some of the best fly-fishing water in the world.


Investing in extraordinary WKU student learning experiences is worth your support. There is no additional tuition charged to full-time enrolled students, but they are responsible for all travel program costs: flights to/from Montana, hotel, guiding fees, guide gratuity, meals, fishing license and fees. Total estimated cost for the 2019 program is $2,600 per student.

Your generous contribution will be used to reduce the cost of the 2019 program for our students. Our campaign goal is to raise $700 for 12 students for a campaign total of $8,400.


Suggested Giving Amounts:
$75

- could cover a student's Montana fishing license and fees

$200 - could provide 10 student meals during the program.
$500 - could cover a student's round trip airfare.
$2,600 - could cover the full cost for one student.
Your donation to this crowdfunding campaign, managed by WKU Philanthropy, is considered a charitable donation consistent with IRS guidelines. This is a "keep-it-all" campaign. That means donors are charged immediately and the campaign will be funded even if it does not reach its goal by the deadline.
Note: WKU student parents, grandparents, and the general public are invited to participate in our non-credit WKU Fly Fishing Montana program (travel portion only) held in the same location at the same time. This program further enhances the student experience as they interact with community members. The funds from this campaign will not be used to fund this non-credit program.

Updates
Nov 16 - WKU Fly Fishing Montana - New video & Fundraising update.
---
---Good evening and welcome to the weekend! With Thanksgiving just around the corner, I wanted to get in a quick update to all those who have contributed to our fundraiser. As of today, we have raised 81% or $6,810 of our $8,400 goal. We are getting very close to having 12, $700 mini-grants for our students. Thank you for your support. I'm hopeful we will reach our goal before Nov. 30.

---I also wanted to share a new video produced by Reed Mattison, a student from the fall 2018 Fly Fishing Montana course. I hope you enjoy the video and the students he interviewed for this project.

---Have a nice weekend and Happy Thanksgiving. Dr Poff
1839 days ago by
Raymond Poff
Thank you + Update from WKU Fly Fishing
---
---On behalf of WKU and our students, I wanted to provide a two-week mark update and thank everyone who has generously donated to the WKU Fly Fishing Montana Student Experience fundraiser!
---At the time of posting this update, 66% of our goal had been raised; $5,545 of $8,400. This is an incredible response from you, our generous donors. I am grateful for your kindness and so pleased to think of what these gifts will mean to our students.

---I've been personally contacting our past Fly Fishing Montana participants (students and community friends). These individuals have a unique perspective from participating with us in Montana. I underestimated how enjoyable it would be to contact them (you) and get updates on life events (work, marriages, pregnancies, graduate school, starting new businesses, kids, etc.). Thanks for sharing your life updates with me.

---Don't get me wrong, I really do love the fly fishing in Montana part of the program, but the friendships made along the way and the joy of sharing fly fishing and Montana are true treasures for me. Thank you.

---The online campaign runs through November 30, 2018 and I am confident that other generous individuals like you will help us reach or exceed our goal.

---Have a fantastic day and thank you for supporting WKU students.

Dr. Raymond Poff, WKU Recreation Administration

Photo by Nic Caswell, Fly Fishing Montana 2018, student participant.
2018 Fly Fishing Montana participants - first day group photo at The Missoulian Angler.
1854 days ago by
Raymond Poff
---
Class LeaderboardThe Class Leaderboard reflects giving from Students, Alumni, Parents
Most Recent Donors
Thunder Hammer Fly Fishing
Mr. Jim and Dr. Jill Sauerheber
View All Donors
---
---