BSM 50th Anniversary Campaign
Uhuru Ni Upunduzi!

For The Black Student Movement, this year marks 50 years of providing a safe and encouraging environment for black students to culturally express themselves and voice any of their concerns and grievances to the university. Membership has increased by more than 30% this year, and it is important that we give every one of our members the proper platform that they need.
Help us raise $10,000 in order to continue expanding the organization and enhancing the culture of the black student community on campus. Any sized donation will be gratefully received!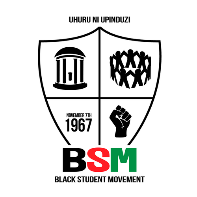 Become an Advocate and be recognized for your impact!
---
SHARE WITH YOUR NETWORK
Sign up or Log in and share the campaign to track the number of clicks, gifts, and dollars you generate! (Note: If you share without signing up or logging in, your impact will be counted as a Community Advocate.)
---
INSPIRE YOUR FRIENDS AND PEERS
Encourage others to give with a Matching Gift or Challenge.
---
TELL YOUR STORY
Create a Personal Plea video encouraging others to join you in supporting the campaign.
No Active Matches
No Active Challenges