Heidi A. Taboada & Jose F. Espiritu
matched $2,000
---
An Anonymous Donor
matched $50,000
Tom Barnhart
gave $2,000
Gifts to Student Organizations contribute to...
About
With 100+ student organizations, Texas A&M University-Kingsville's vibrant student life empowers students to get involved and develop connections in the areas they value most. Through campus student organizations, students gain skills, make connections, and broaden their knowledge - resulting in well rounded individuals prepared for their future career!
---
American Academy of Environmental Engineers and Scientists (AAEES)
The TAMUK student chapter of the American Academy of Environmental Engineers and Scientists is committed to providing opportunities for our members. We meet on a weekly basis to brainstorm how we can optimize fundraising so that we can apply our earnings to take our members on a fully inclusive trip to the TCEQ Environmental Trade Fair and Conference. This event is a great learning and networking opportunity for all our members, and also a great reward for our member's hard work.
American Institute of Chemical Engineering (AIChE)
The AIChE student chapter at TAMUK allows chemical engineering students to connect with their peers outside of the usual classroom setting. Juniors and seniors in the organization can act as unofficial mentors to the underclassmen, as they can provide advice relating to classes and other experiences in the undergraduate ChemE timeline (internships, job interviews, school-life balance). AIChE helps students to get a feel for what it means to be a chemical engineer in the real world, instead of just the usual coursework. AIChE members have the ability to get information about internships and volunteer opportunities on and off campus through the organization during our biweekly meetings. AIChE also provides opportunities for students to take part in things like resume building, hearing from guest speakers, as well as expanding their knowledge of what can be done with this degree. The connections made in this organization can last a lifetime, as many members of AIChE student chapters go on to continue their memberships with AIChE for the rest of their lives, well past graduation and into their own careers.
Funding
It is important for our organization to receive funding as it will benefit us by keeping our students involved outside the classroom setting. One of our biggest events in this organization is our Chem-E-Car Competition. This has numerous regional competitions, culminating in the final competition held at the AIChE Annual Student Conference. It involves students designing and building a car that will be powered by some sort of chemical reaction and running it against other chapters own designs. Our organization has not been involved with Chem-E-Car for a few years now, so it would be great to be able to get our members involved with this again. Tied with this is that AIChE Annual Student Conference for this year. Regardless of whether or not our organization is able to make it to the final round of competing for the Chem-E-Car, it would still be greatly beneficial for our organization to be able to send a few of our members to the conference to gain experience and knowledge from workshops and panels there.
Graduate Biology Student Association (GBSA)
Founded in 1993, the Graduate Biology Student Association at Texas A&M University-Kingsville (GBSA) is a registered organization focused on supporting and challenging graduate students in the department of biology and related sciences majors in order to produce the best professionals and even better people.
Purpose: to support graduate students
Mission: to provide the opportunities, tools, and resources members need to succeed; to foster community amongst members; to advocate for graduate students, especially our members; to benefit the institutional community
Vision: for our students and alumni to be competitive with those from "top-tier" institutions
Institute of Electrical and Electronics Engineers (TAMUK IEEE)
Javelina Equestrian Club
The purpose of the Javelina Equestrian Club is to unify students interested in learning and/or further developing equestrian skills. Our focus is on helping students participate in numerous aspects of equestrianism through horsemanship, showmanship, and community service.
Society of Hispanic Professional Engineers (SHPE)
Dedicated to providing funding for our members to take them to the SHPE National Convention where they can astronomically develop their professional careers. The SHPE National Convention serves as the country's largest annual gathering of Hispanic STEM students and professionals. This year the National Convention is being held in Salt Lake City, UT. We are looking forward to inviting 30 of our members to expose them to career opportunities in STEM, where over 270 companies will be in attendance.
The American Institute of Chemical Engineers(AIChE)
Since 1980, The American Institute of Chemical Engineers(AIChE) TAMUK chapter has focused on the professional and personal growth of chemical engineers. The organization has strived to provide opportunities and networking skills to stay connected with industry.
Catholic Student Organization
The Catholic Student Organization (CSO) at Texas A&M University-Kingsville is a faith based group dedicated to serving the student body through ministry, volunteering, and the community. We minister through Catholic masses and other services offered throughout the year. Our group meets at the Newman Center every Wednesday at 7 PM, we hope you will join and appreciate your support through Javelina Day of Giving!
Pro-Life Javelinas
Pro-Life Javelinas, a religious and non-partisan organization, serves to protect all innocent life from conception to natural death in the Kingsville community. We believe all human life has inherent value and is worthy of protection. We serve pregnant and parenting students on our campus through the Bright Scholarship. Our mission is to advocate for pro-life issues (abortion and all end-of-life issues) through activism, volunteer work, and education in our campus and community. All donations received from Javelina Day of Giving will go towards our Bright scholarship for pregnant and parenting students on campus!
Unity
Unity strives to bring further awareness to our queer students and the community on our campus while promoting an all-inclusive environment. Annual events are set up each semester to recognize national LGBT awareness days, PRIDE month in June, and LGBT History Month in October. Some of our events include National Coming OUT day, Drag Brunch, Drag Loteria, LGBT History exhibits, Queer film nights, etc. Unity is able to fundraise for these events by hosting bake sales and by participating in the annual Fall Carnival/Spring Fling. As these fundraising efforts are limited, Javelina Day of Giving is now an additional opportunity in fundraising to broaden our efforts to hold more significant events throughout the year and hopefully, grow from campus events into collaborations with the city to host our first ever Kingsville PRIDE.
Student Government Association
The purpose of the Student Government Association of Texas A&M University - Kingsville is to enhance the quality of student life by committing ourselves to service and engaging our fellow students. Student Government serves as the voice of the student body in the affairs of the university. We have committed to transparency as well as making information regarding SGA readily accessible. We are the voice of the student body, make your voice heard.
---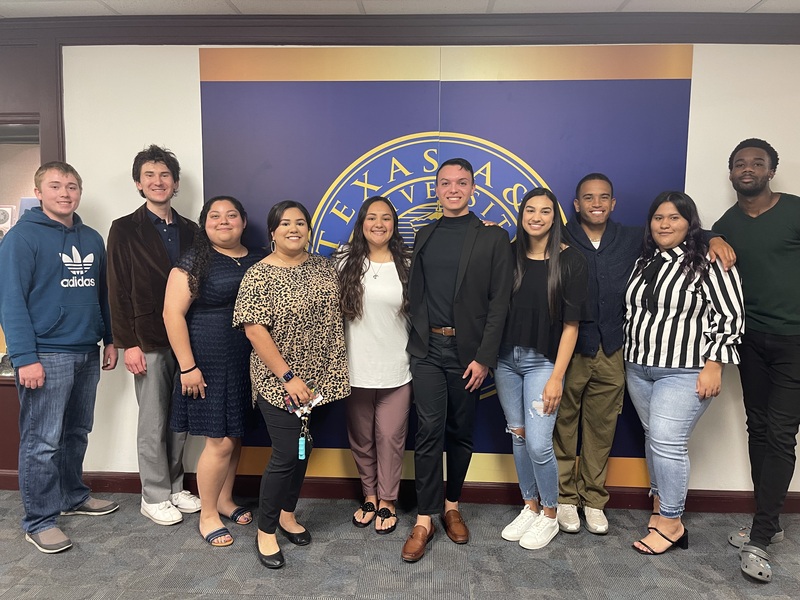 No updates for this campaign.
---
| Names | Donors | Raised ($) |
| --- | --- | --- |
| Pro-Life Javelinas | 0 | $0 |
| Unity | 9 | $900 |
| Catholic Student Organization | 1 | $100 |
| Student Government Association | 0 | $0 |
| American Institute of Chemical Engineers(AIChE) | 0 | $0 |
| Student Organizations | 6 | $408 |
| American Academy of Environmental Engineers and Scientists (AAEES) | 0 | $0 |
---
Advocates
Friends of the John E. Conner Museum
---