Shad D. Nelson & Christina
matched $250
---
Dr. Dolores Guerrero
matched $2,000
---
Kleberg First National Bank
matched $5,000
---
Texas A&M University-Kingsville Foundation
matched $50,000
Challenges are a great way to show your support. Be the first!
Gifts to Student Organizations contribute to...
About
With 100+ student organizations, Texas A&M University-Kingsville's vibrant student life empowers students to get involved and develop connections in the areas they value most. Through campus student organizations, students gain skills, make connections, and broaden their knowledge - resulting in well rounded individuals prepared for their future career!
---
American Academy of Environmental Engineers and Scientists (AAEES)
The TAMUK student chapter of the American Academy of Environmental Engineers and Scientists is committed to providing opportunities for our members. We meet on a weekly basis to brainstorm how we can optimize fundraising so that we can apply our earnings to take our members on a fully inclusive trip to the TCEQ Environmental Trade Fair and Conference. This event is a great learning and networking opportunity for all our members, and also a great reward for our member's hard work.
The American Institute of Chemical Engineers(AIChE)
Since 1980, The American Institute of Chemical Engineers(AIChE) TAMUK chapter has focused on the professional and personal growth of chemical engineers. The organization has strived to provide opportunities and networking skills to stay connected with industry.
Catholic Student Organization
The Catholic Student Organization (CSO) at Texas A&M University-Kingsville is a faith based group dedicated to serving the student body through ministry, volunteering, and the community. We minister through Catholic masses and other services offered throughout the year. Our group meets at the Newman Center every Wednesday at 7 PM, we hope you will join and appreciate your support through Javelina Day of Giving!
Javelina Rodeo Team
The Texas A&M University - Kingsville Rodeo Team is non-profit organization. The main focus of the group is to allow students to participate at college rodeos in the Southern Region of NIRA. The team has been working hard to enhance the program through facility improvements, workdays, and various learning opportunities. This allows students to learn responsibilities while taking care of horses, reaching deadlines, and traveling to collegiate rodeos.
Pro-Life Javelinas
Pro-Life Javelinas, a religious and non-partisan organization, serves to protect all innocent life from conception to natural death in the Kingsville community. We believe all human life has inherent value and is worthy of protection. We serve pregnant and parenting students on our campus through the Bright Scholarship. Our mission is to advocate for pro-life issues (abortion and all end-of-life issues) through activism, volunteer work, and education in our campus and community. All donations received from Javelina Day of Giving will go towards our Bright scholarship for pregnant and parenting students on campus!
Unity
Unity strives to bring further awareness to our queer students and the community on our campus while promoting an all-inclusive environment. Annual events are set up each semester to recognize national LGBT awareness days, PRIDE month in June, and LGBT History Month in October. Some of our events include National Coming OUT day, Drag Brunch, Drag Loteria, LGBT History exhibits, Queer film nights, etc. Unity is able to fundraise for these events by hosting bake sales and by participating in the annual Fall Carnival/Spring Fling. As these fundraising efforts are limited, Javelina Day of Giving is now an additional opportunity in fundraising to broaden our efforts to hold more significant events throughout the year and hopefully, grow from campus events into collaborations with the city to host our first ever Kingsville PRIDE.
Student Government Association
The purpose of the Student Government Association of Texas A&M University - Kingsville is to enhance the quality of student life by committing ourselves to service and engaging our fellow students. Student Government serves as the voice of the student body in the affairs of the university. We have committed to transparency as well as making information regarding SGA readily accessible. We are the voice of the student body, make your voice heard.
---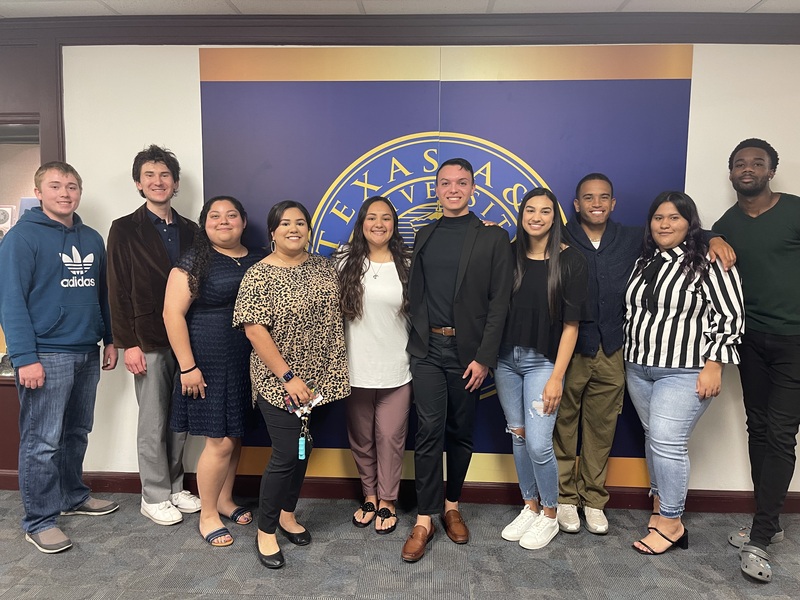 No updates for this campaign.
---
Student Organizations Leaderboard
---
Advocates
Texas A&M University-Kingsville Foundation
Friends of the Conner Museum
Kleberg First National Bank
---