JOIN THE MOVEMENT & SUPPORT FONTBONNE ON #GIVING TUESDAY!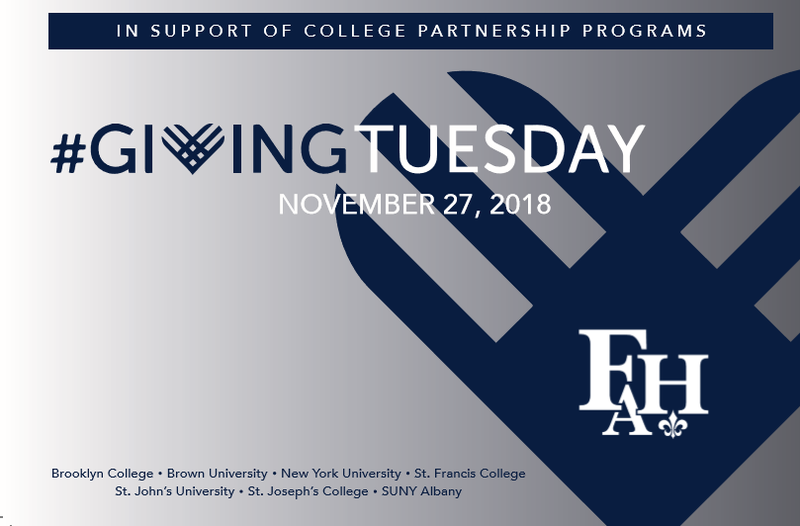 As some may know, the first Tuesday after Thanksgiving is designated as #GivingTuesday (November 27th this year) a more recent phenomenon that has become an international day of giving. $180 million was raised globally in 2016 on this one day alone. In response to the need to remember the "Reason for the Season" of Christmas and to take a breath from Black Friday and Cyber Monday, this day is set aside to help the thousands of charities and non-profits across our globe. Fontbonne Hall Academy raised $10,000 last year, due to the generosity and benevolence of alumnae, parents, students and friends. Our "stretch" goal this year is $20,000. The funds raised, in large part, will go toward the staffing, equipment and supplies needed to sustain the numerous and respected college partnership programs that we host. Though incredibly beneficial to our students and the reputation of the school, programs such as these and others are expensive to maintain. Keeping these and other programs viable and strong can only be done with the support of those who believe in the seemingly endless possibilities that Fontbonne offers.

**PLEASE NOTE: Our students are raising money in school as well for this program. Each grade will be allowed to donate a portion of what they raise to a charity of their choice--so far St. Jude's Children's Hospital and Wounded Warriors are among those who will benefit. This is in support of our Mission of service and community and our Core Values:
>Spirituality - rooted in the Gospel of Jesus, the mission of the Sisters of St. Joseph and the traditions of the Catholic Church, our school communities strive to live and witness reconciliation, unity, justice, peace, and God's inclusive love. We seek union with God and with the sacred community of all God's creation, human and non-human.
>Academic Excellence - students at our schools achieve academic excellence while their individual gifts and talents are nourished. They are encouraged to become life-long learners through rigorous and innovative college preparatory curricula.
>Leadership - Our schools prepare students to live their lives with honesty and integrity. We strive to develop women leaders who earn respect by actions and decisions marked with strength, humility, empathy and authenticity.
>Service - Our schools encourage students to become responsible, compassionate citizens committed to justice and peace in a global society. Our students embrace opportunities to respond to the needs of others through service and advocacy.
>Community - Our schools are unique, diverse, and caring Christian communities where all are welcomed and respected. In this sacred environment, our students grow in self-respect, hospitality, and care for the dear neighbor.
Donor affiliations
Donor list
Stephanie Gilardi

Natalie Burke

Chaza Rafiaa

Anonymous

Anonymous

Vincent Cervone
Jeannine Rotondi

John Bruno

Anonymous

Mary Palamar

Anonymous

Anonymous

Susan S. Castorina

Harvey Kane

Santo Family

Liani Kane

Gerard Cunningham

Anastasia Christakos

Colleen Martin-Morris

Lisa Amendolia

Teri Faicco

Justine

Deirdre M Finnegan

Barbara Andreassen

Victoria Ryan

Maria L Vourlides

Christine Brennan

Andrew Spieler

Marianne DeStefano

Gargiulo Family

Patella Family

Anonymous

Mirella DiBartolo

Ruth Necco

Recchia family

kathleen T fidaleo

Liisa Hennessy

Teresa Zuardo

carol quinn

Maria Grigos

Kate George

Sebastian First-Advocate (EXAMPLE)


generated 135 clicks and 11 donations, totaling $1,200

matched 10 donations for a total of $200

Gave $500 because 50 people gave in 1 day