Wildcat Top 21
105%

($184,653 of $175,000)
The Wildcat Top 21 provides an opportunity for friendly competition between Davidson's athletic alumni and the 21 varsity teams the college sponsors at the NCAA Division I level. The competition is geared toward generating expendable operating and scholarship funds to directly support the college's nearly 450 scholar athletes. Each program's score is measured by a combination of participation percentage and progress toward the individual annual fundraising goal of each team.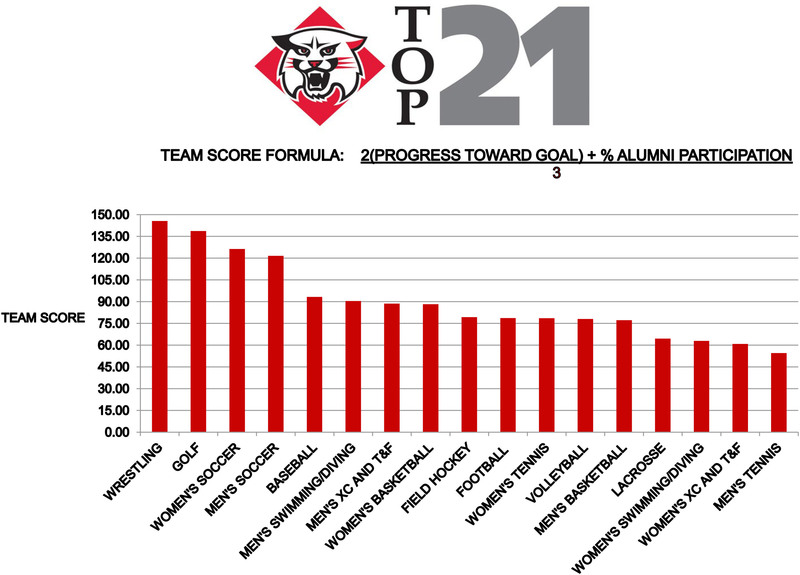 Donor affiliations
Donor list
Leslie McIver & Thanh Nga McIver
Steve Shankweiler & Patti
Paul Schleifer & Lydia
Amanda Traver Carey & Joseph Hall Carey Jr.
A Grant Whitney Jr & Mary Carol Whitney
GENERATE 5 GIFTS
Generate five donations through your advocacy link and receive a shout out from a Davidson Athletic Fund social media account. Click on the advocate tab to get started!
---
GENERATE $300
Only 8 left!
Raise $300 from your advocacy link and receive a custom made, dry-fit Under Armour Davidson College running hat!
---
GENERATE $500
Only 2 left!
Raise $500 from your advocacy link and receive a custom Davidson Athletics Under Armour backpack