Hike for Help in the Khumbu Valley of Nepal
Self-Enabling Help: Colorado School of Mines Students in the Everest Region of Nepal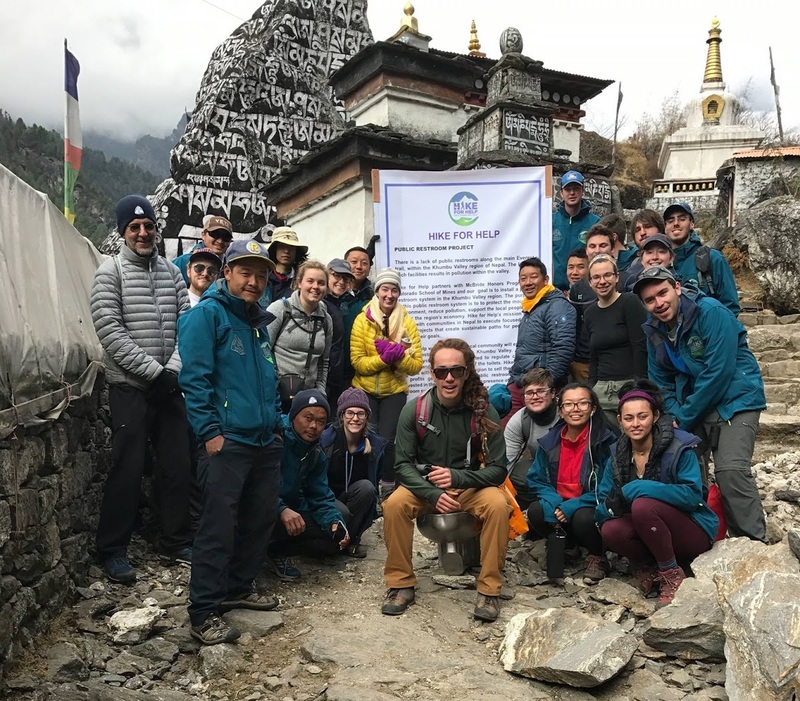 Colorado School of Mines has teamed up with the Hike for Help (H4H)* organization and community leaders in the Everest region of Nepal to execute customized infrastructure projects and sustainable economic development in the immediate area.
Perhaps the largest and most impactful project achieved by Hike for Help, in partnership with students and faculty from Colorado School of Mines, is the ongoing construction of paid public restrooms. In the Khumbu Valley of Nepal, public restrooms are a rarity, especially as the region struggles to rebuild from the devastation of the 2015 earthquakes. Thousands of tourists make the trek up the valley to Everest Base Camp every year, making material waste a huge problem. A dearth of basic facilities discourages travel to the region, threatening the livelihood of the Nepali people who depend on tourism for survival.
With your help, a team of Mines students from the McBride Honors Program will travel to the Khumbu Valley with the Hike for Help team in the Winter of 2017 to continue construction on public restrooms in Lukla. The improved sanitation equates directly to improved quality of life for Lukla's residents. The restrooms will generate meaningful commerce, as tourists purchase tokens to gain access to the facilities.

The McBride Scholarship Program is enabling this trip by covering the costs of student volunteers. However, we need your help to purchase two toilets, which cost $910 each. Funds raised beyond our goal of $1,820 will go toward the purchase of additional materials for this project like tokens, doors, windows and other building materials.
Both Hike for Help for McBride share a joint vision of global awareness and the creation of empathetic engineers shaped, in part, by working to improve the lives of the Sherpa people in the Khumbu region.
Without firsthand knowledge of the sanitation, education, and economic issues that persist in the world and in Nepal, all decisions I make are ill-informed ones. Here's hoping this trip works toward solving those issues for the Sherpas, and enlighten the Mines students who travel there.

~Matt Kowalsky, Senior
---
*Hike for Help is a 501(c)(3) non-profit based in Golden, and was founded by a good friend of the community and Colorado School of Mines, Lhakpa Sherpa. Its mission is to provide self-enabling help to Nepali locals, specifically the Dahlit people of Lukla, a village of 230 near the base of Mt. Everest. H4H achieves its mission through a series of small, focused projects, tailored to the specific needs of a village or locale. Fundamentally, H4H represents a partnership; one in which Nepali communities are able to propose and plan the service projects they believe to be the most beneficial and meaningful. Hike
for Help is able then to actualize these projects by obtaining and transporting valuable financial and logistical resources. These resources are related to design, materials, and the supplies needed to start projects that are eventually independent and community run.
US Heat Map
Global Heat Map
Nicole C Fender

Chris and Dawn Warner

Brady Strahl

Stuart Fehr

Peter Consalvi

Elyse and Paul Johnson

Anonymous

Charlie Dyrsten

Kai E Cook

Nicholas Peter Sloan

Marie Claire

Lisa Pollack

Michael Hulett

James Monaghan

Scott Selzer

Mimi Fader

Susan Grande

Shelley D. Cordova

Aaron S Richmond

Doug Smith

Jana Smith

Anonymous

John Ryan

Mary Cook
Jon Anderson

Rachel Osgood

Scott Harper

Big Ring Cycles

Anonymous

Anonymous

Anonymous

Dawn Weddle

Susan Braun

Greg Weddle

Become an Advocate and be recognized for your impact!
---
SHARE WITH YOUR NETWORK
Sign up or Log in and share the campaign to track the number of clicks, gifts, and dollars you generate! (Note: If you share without signing up or logging in, your impact will be counted as a Community Advocate.)
---
INSPIRE YOUR FRIENDS AND PEERS
Encourage others to give with a Matching Gift or Challenge.
---
TELL YOUR STORY
Create a Personal Plea video encouraging others to join you in supporting the campaign.
No Active Matches
No Active Challenges